HCL Workload Automation, Version 9.4
---
Distributed workload environment with dynamic scheduling capabilities
Use this configuration to run workload dynamically across your distributed network.
The run time environment is used to:
Run on the agent job types with advanced options, both those supplied with the product and the additional types implemented through the custom plug-ins.
Enable the capability to remotely run, from the agent, the

dynamic workload broker

resource command on the server.
For information about dynamic scheduling, how to run application job plug-ins and the dynamic workload broker resource command on the server, see
HCL Workload Automation
: Scheduling Workload Dynamically.
In this configuration, you can choose whether or not to add the run time environment for Java™ jobs to the agent.
Figure 1
shows the system resources required to install a fully working
HCL Workload Automation
environment for running your distributed workload dynamically.
Figure 1. Distributed workload environment with dynamic scheduling capabilities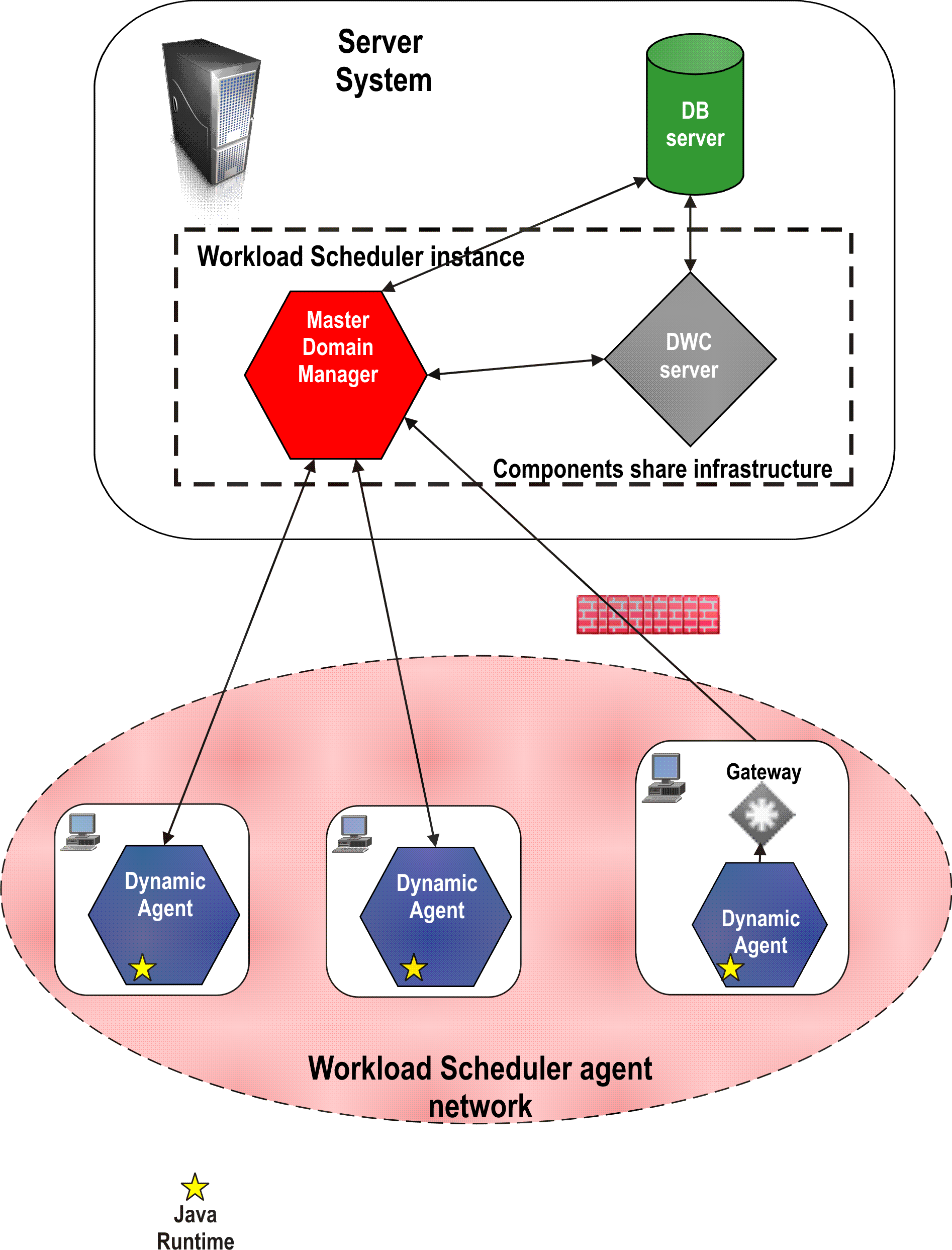 Dynamic scheduling supports most of the HCL Workload Automation features for static scheduling. The Table 1 lists some features or properties that are partially or not supported.
Table 1. Features partially or not supported for dynamic scheduling

Feature

agent

and

IBM Workload Scheduler for z/OS

agent
Event-driven workload automation.

Note:

For more details about the events type, see

HCL Workload Automation

User's Guide and Reference: Appendixes - Event-driven workload automation event and action definitions

TivoliWorkloadSchedulerObjectMonitor events supported.
FileMonitor events supported, except for

IBM i

systems.
TivoliWorkloadSchedulerApplicationMonitor events not supported.
Utility commands (datecalc, jobinfo, and so on).
Not supported.
---